10/100/1000BASE-T to 1000BASE-SX/LX SFP Port, RJ45 Port, Media Converter
The Unmanaged Gigabit Ethernet Media Converter extends communication distance with high performance of data transmission via fiber optic cable. It can build the ISP network solution of FTTH or FTTC for ISPs and FTTBs, or for small office network environment of enterprises.
The media converters are compatible with a wide range of transceiver modules, such as general 1000Base SFP transceiver modules, BIDI transceiver modules, CWDM transceiver modules, etc. Be sure that the wavelength, speed rate, and the distance of the transceiver modules used at the both ends of the media converter are consistent.
Description
Ports
Cable Type (Fibre)
Standards
Unmanaged 1x 10/100/1000Base-T to 1x 100/1000Base-X SFP Slot Gigabit Ethernet Media Converter, British Plug standard
1 x Gigabit SFP Port
1 x 10/100/1000M RJ45 Port (Auto MDI/MDIX)
Multimode 50/125µm, 62.5/125µm
Single-mode 9/125µm
IEEE 802.3, IEEE 802.3u, IEEE 802.3ab, IEEE 802.3z, IEEE 802.3x
External Power 
Speed 
Operating Temperatute 
Input Power 
AC 100V~240V
Twisted pair-10/100Mbps for half/full duplex, 1000Mbps for full duplex
Fiber Optic-100Mbps/1000Mbps for full duplex 
0°C to 40°C
DC 5-12V with UK 3 Pin 
Lengthening the Distances of the Connections in Network
The media converter turns a copper Ethernet link into a fiber link, providing an economical path to extend the distance of an existing network or the distance between two devices.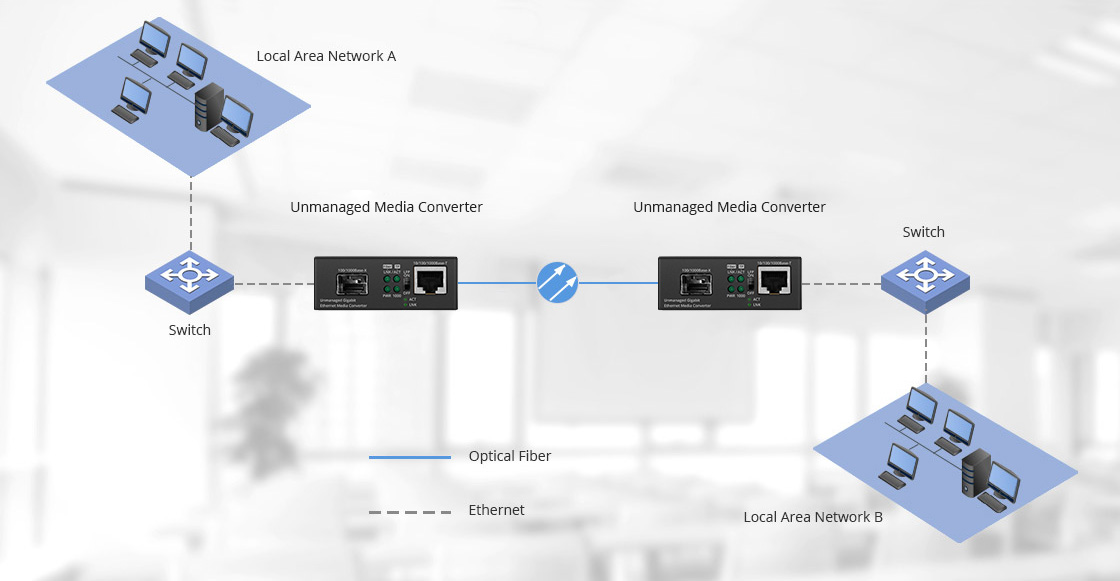 Unmanaged 1x RJ45 to 1x SFP Gigabit Ethernet Media Converter
Comply with IEEE 802.3/802.3u/802.3z/802.3ab standard protocols
Support store and forward mechanism and OAM TS-1000 and IEEE 802.3ah terminal mode
Support LFP (Link Fault Pass Through) function enabled by DIP switch
100/1000Base-X SFP Port
Compatible with SFP, BIDI, CWDM transceiver modules, etc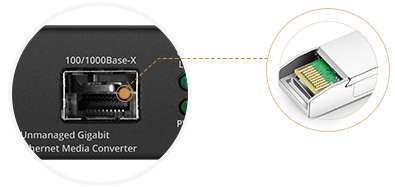 10/100/1000Base-T RJ45 Port
Auto-negotiation and auto-MDI/MDI-X RJ45 port supports cat5/5e/6 copper cables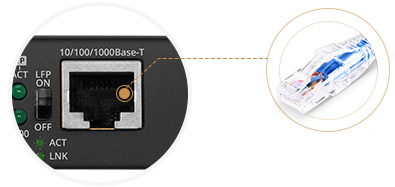 Link Fault Pass Through (LFP) Function
The LFP means the link fault on the one side (local side) media converter will be passed to the media converter on the other side (remote side). LFP function can immediately alarm network administrators the problem of the link media and provide efficient solution to monitor the network, which can minimize the loss caused by the link problem.